Orthotics
Lower Limb
Hip Abduction Orthosis

Hip Abduction Orthosis provides firm support and stabilization for nonoperable hip disorders and postoperative, primary or revision total hip arthroplasty. Moisture-wicking neoprene padding. Patent pending "infinite range" hip joint is the only hinge that provides infinite adjustability from -5° to 25° abduction, critical to correct bio-mechanical fitting. Flexion and extension ROM adjustable, too. Pelvic posterior panel features pivoting adjustment mechanism that eliminates need for male and female versions. Lightweight. Easy on and off.
Knee-ankle-foot orthoses (KAFO)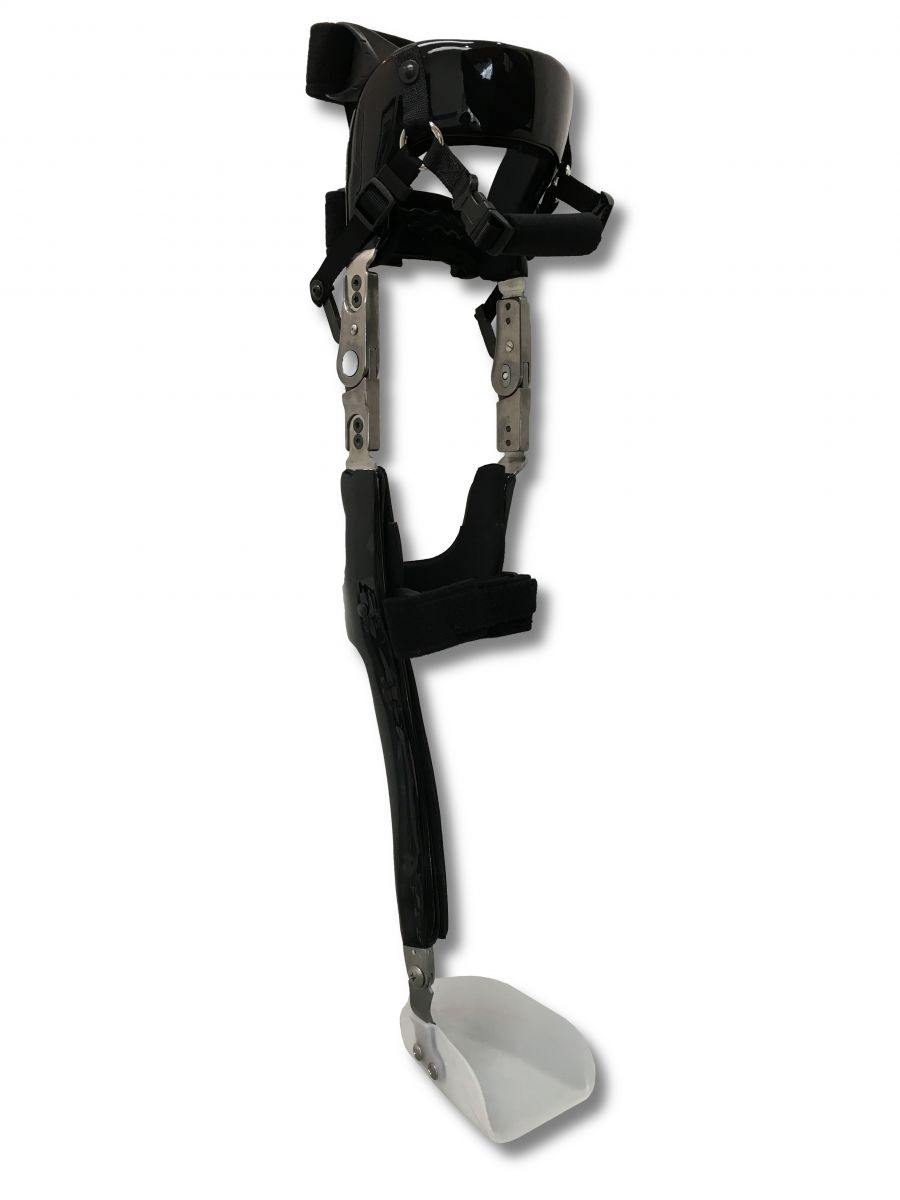 Each KAFO is custom-made to the specific requirements of the individual. There are numerous design options available that make usage of the Orthosis both functional and comfortable. A detailed examination and assessment of the patient allows us to suggest the best available component combination.
FREEDOM® Wrap-Around Knee Orthosis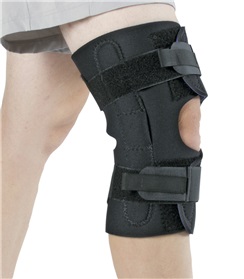 FREEDOM® Wrap-Around Knee Orthosis Covered bilateral stainless steel-hinged uprights with hyperextension stops allow varus/valgus support. Wraparound closure on top and bottom makes brace easy to apply while upper and lower circumferential straps reduce brace migration. 3/16" black, nylon-covered neoprene maintains warmth to aid in healing. Fits right or left knee.
AIR CAM® Adjustable Walker Boot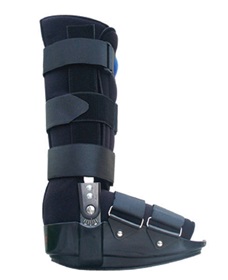 The AIR CAM® Adjustable Walker Boot has a lowered rocker design and CAM adjustability ranging from neutral to 45° plantar/dorsiflexion with the turn of a screw. Unique ankle joint allows easy access adjustment and aluminum uprights for further customization. Fix the ankle or prescribe a range of motion. Also has a pneumatic liner for a more natural gait with increased support and stability. Fits left or right.
Elite™ Rehabilitator™ AFO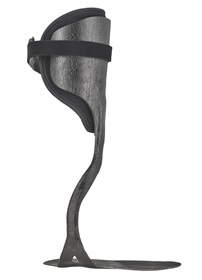 Elite™ Rehabilitator AFO Lightweight and semi-flexible construction helps improve gait biomechanics and efficiency for patients with mild to moderate foot drop. Patented FUSION process incorporates a blend of carbon fiber materials throughout for greater flexibility when compared to other rigid carbon fiber AFO's. Helps control plantar flexion, increase toe clearance, and facilitate heel to toe weight transfer while optimizing dynamic swing assist for reduced energy consumption. Appropriate for patients with mild to moderate spasticity.
Upper Limb
AliMed® Dorsal Resting Splint
AliMed® Dorsal Resting Splint This prefabricated, padded, Dorsal Resting Splint eliminates the two main problems with traditional volar splints: the pressure from the splint surface can increase tone in the wrist and finger flexors and the splints can trap heat and perspiration. These problems often result in poor patient compliance.This dorsal splint allows for maximum range of motion without triggering flexor spasticity, because the contact is on the dorsal surface of the palm and wrist.
AliMed® FREEDOM® Hyperextension Elbow Braces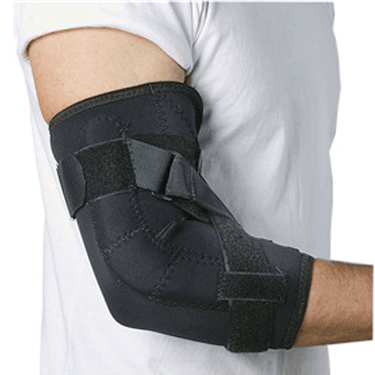 FREEDOM® Hyperextension Elbow is designed to stabilize the elbow by helping to control extension and rotation. Stabilization is accomplished through a unique design that incorporates dual, polycentric, stainless-steel-covered hinges with hyperextension stops into a functional neoprene sleeve. Two anterior criss-cross straps feature hook-and-loop closures to further limit elbow extension. Biceps closure helps to maintain proper positioning and reduce migration.
Aircast® Mayo Elbow Hinged Brace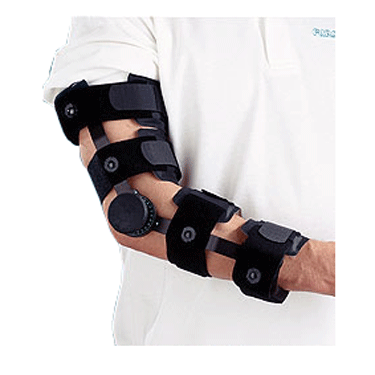 An innovative control knob and adjustable hinge, provides exceptional stability and comfort while allowing for immobilization, static stretch or free motion option of the elbow. The sturdy metal uprights provide stability, while the straps with aircells securely hold the brace in position, ensure patient comfort and avoid pressure points. The brace is used immediately after surgery to protect and immobilize the elbow joint. In the immediate post injury or post surgical period, the brace may be used to comfortably immobilize the elbow due to the effectiveness of the aircell strapping systems.
Exos Radial Gutter Fracture Brace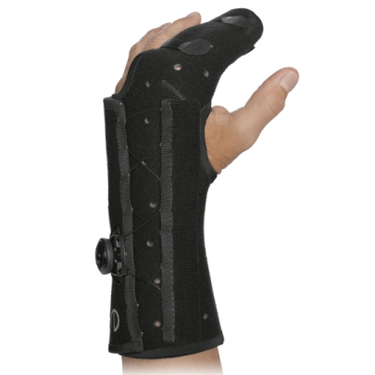 Provides stabilization to the second and third metacarpals, second and third metacarpophalangeal (MCP) joints, the second and third digits and the wrist joint.
SaeboStretch
The revolutionary SaeboStretch dynamic resting hand splint helps neurologically impaired clients maintain or improve motion while minimizing joint damage and pain. Saebo's energy-storing technology allows individuals suffering from spasticity to stretch comfortably and safely resulting in increased motivation and compliance.
Cervical and Spinal
AliMed® Soft Shell Helmet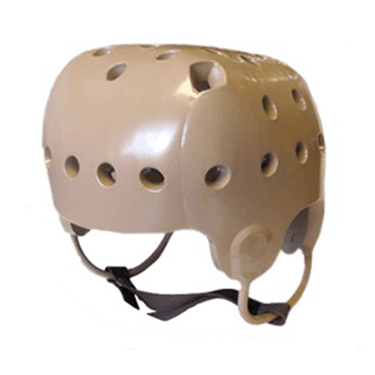 Soft Shell Helmet Constructed from 1/2"-thick, shock-absorbing foam - weighs less than 8 oz.! Fully ventilated with an easy-to-clean vinyl coat helps prevent bacteria build-up. No hardware anywhere on the soft, foam shell so wearer's face does not come in contact with any hard surface. Woven polypropylene chin strap with snap closure and adjustable buckle for tight, comfortable fit.
Aspen® Cervical Collars
Aspen® Cervical Collars Pads wick moisture while shell distributes and transfers head weight to shoulders and upper thorax. Fit upright or supine patients. Front and back airflow openings. Adjustable Occipital Support Strap™. Aspen TX includes thoracic extension. Both models include a breathable pad set (front and back) and extra set of replacement pads.
Thoracic lumbar sacral orthoses (TLSO)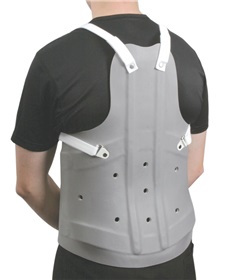 AliMed® TSLO stabilizes spine and aids in relief of back pain. Rigid aluminum chairback frame is enclosed in a thermo-molded firm polyethylene foam shell with soft foam interface lining. Hook-and-loop closures allow easy adjustability. Foam shell can be trimmed with scissors. Aluminum frame can be contoured to patient without tools. Modular front panel offers option of either Standard or Pendulous Front.
Lumbar sacral orthoses (LSO)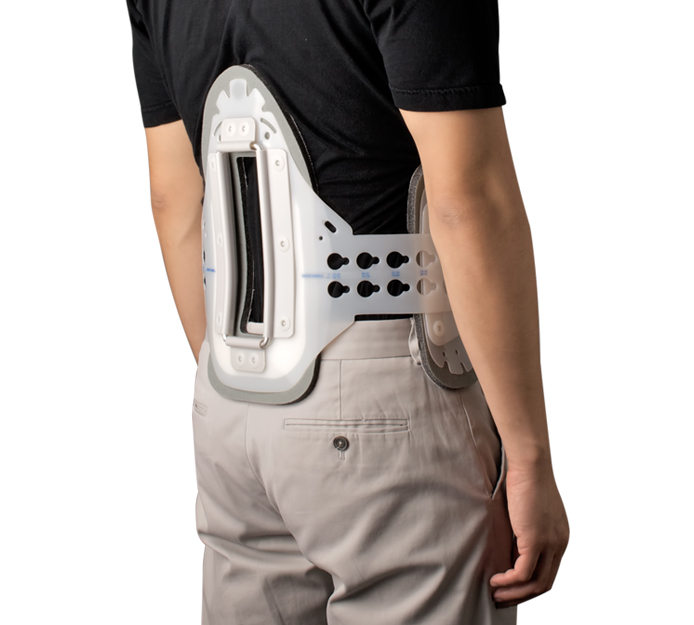 The Aspen® Lumbosacral Bracing System™ offers the practitioner multiple orthotic options that provide a high degree of immobilization, unparalleled comfort, and the ability to self-adjust to patients even if they gain or lose weight. It combines the motion restriction of a custom fabricated orthosis with a dramatic improvement in comfort for better patient outcomes.
Cervical thoracic orthoses (CTO)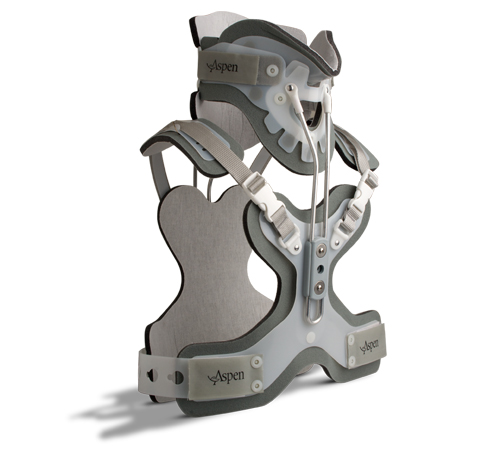 The Aspen® CTO combines highly effective motion restriction of the cervical and upper thoracic spine with a level of comfort that makes it well tolerated by patients. Research has shown substantially progressive motion restriction in going from a stand-alone cervical collar, to a two-post device, and then on to a four-post orthosis. For these reasons, the Aspen® CTO system offers the greatest versatility available when dealing with cervical-thoracic problems in today's cost conscious healthcare environment.